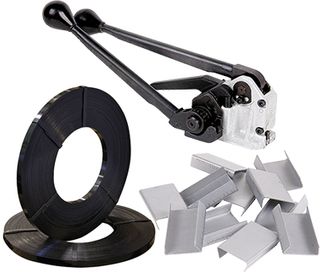 STEEL STRAPPING
Steel Strapping is one of the most secure forms of load retainment, and is commonly used in the timber, scaffolding or fabrication industries. Azapak stocks a wide range of steel strapping as well as tools & dispensers.
Steel Strapping Options:
Ribbon Wound: Smaller coils, typically around 12-15kg per roll. Easy to carry around your site
Rope Wound: Large coils, around 45kg per roll. Must be loaded onto a rope wound dispenser. Very economical option.
Tooling Options:
Manual Tensioners and Crimpers: Lowest cost sealing option- does require seals to be used.
Combination Crimping Tools: Combined/tensioner &crimper in 1 tool. Does not require seals- tool actually crimps straps together
Seal Options:
Snap On Seals- most common seal, easiest to use
Pusher Seals- fully enclosed seal, offers higher break strain. Available in standard and H/D options