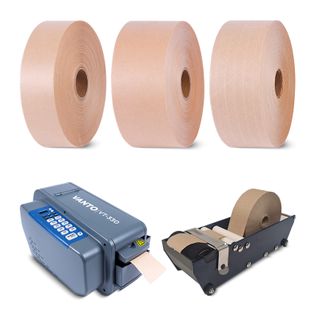 PAPER TAPE
Are you looking for an environmentally friendly taping option? Buy paper tape! It is an excellent option and Azapak offers paper tape wholesale. Not only is it environmentally friendly, but it is a very secure and professional method of sealing your cartons.
Superior quality paper tape wholesale and available in the following options:
Self Adhesive Paper Tapes- these have an adhesive backing, just like normal packaging tape. Self Adhesive Paper Tapes are easiest to apply, but the adhesive is not quite as strong as a water activated tape, they are a more costly option.
Water Activated Paper Tapes- these have an excellent adhesive strength, and are the more economical option. You will need a Dispenser for this option, choose from either manual or electric options. You can also choose either standard paper tape, or reinforced which has a fibreglass strands for extra strenth.
Azapak is a leading supplier of adhesive tapes and packaging supplies. In addition to offering paper tape wholesale, we also stock bags, protective packaging, machinery and warehouse equipment. If you need to buy paper tape and have any questions, just give us a call on 1300 255 725 or email us at sales@azapak.com.au. As easy as that!