Home

/

RIPACK HEAT SHRINKING TOOLS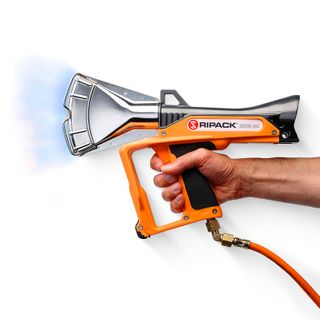 RIPACK HEAT SHRINKING TOOLS
Ripack Heat Shrink Tools - Industrial Shrink Wrapping Solutions
Shrink Guns for Industrial Shrink Wrapping Applications
If you have heavy, large or sensitive items to store or ship, shrink wrapping is a great way to safely and securely package them. To make this process easy, Azapak offers a range of heat shrinking guns and attachments to make the shrink wrapping process fast and efficient.
What are the benefits of Ripack Heat Shrink Guns?
Ripack is the market-leader in heat shrinking guns, due to their unique safety features and industrial strength construction. Unlike any other gun, the Ripack 3000 Heat Shrink Gun has a patented Cool-Touch Nozzle that remains cool even when the gun is being used, preventing burns or injury. The gun is light-weight and designed to reduce wrist strain for operators. The Securi-Pack Regulator has an automatic shut-off feature in the event of gas hose rupture. With a 10 Year Guarantee, no other Heat Shrink Gun comes near the Ripack Heat Shrink Guns.
Support and Spare Parts for Ripack Heat Shrink Guns
The team at Azapak can help keep your Ripack Gun in top condition, for reliable use year after year. Our inhouse service team carry out repairs to Ripack Guns, and we stock a full range of spare parts. Call us today to learn more.
Buy Heat Shrink Guns at wholesale prices
As the Australian distributor of the Ripack Heat Shrink range, Azapak offers Heat Shrink Guns at wholesale prices and you can have confidence that your purchase is backed up by a helpful and qualified team. Contact us on 1300 255 725 or email our helpful customer service team at sales@azapak.com.au today, to find out more.