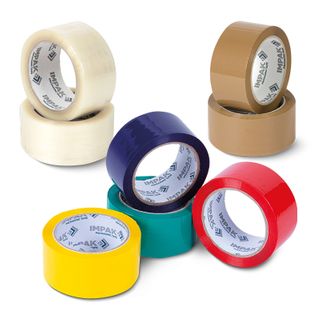 PACKAGING TAPE
Packaging Tape
At Azapak, our selection of packaging tape has become the leading solution for all packaging applications. Regardless of whether you're looking for cost-effective alternatives or simply a reliable supplier to keep on side, Azapak are here for you. Consider us the ultimate choice when it comes to high quality packaging equipment.
For more of our Brisbane packaging supplies, browse the rest of our range today. For more information, or if you have general queries, get in touch on 1300 255 725.
Our Extensive Range of Packaging Tape
General Purpose Grade Tape
Our Denva General Purpose Grade Tape, designed specifically for basic packaging and carton sealing with an aggressive adhesive, ensures a secure hold on your items from the moment they're packaged until arrival to their destination.
Impak 820 Premium Grade
Impak 820 Premium tape is perfect for more demanding applications, boasting resistance to cold temperatures as well which makes it a great option for packages that need to sit in cold rooms and environments alike.
Value Grade Packaging Tape
One of our most popular packaging adhesives is our Value Grade tape. This acrylic based adhesive works well adhering to plastics, such as bubble wrap and plastic bags, along with virgin grade cardboard for ultimate convenience.
e-Tape 1 – Ultimate Packaging Tape
Thanks to the double length in comparison to regular shipping tape, this product provides businesses with more bang for their buck. Specifically designed for better user efficiency, you'll notice the silencing arm to stop the loud squeal, along with adhesive that allows a grip for all surfaces.
e-Tape Plus
Our e-Tape Plus is ideal for both large and small shipments thanks to its 150m roll length, working to save you time and, in turn, money. Built with the purpose of silent unwinding, this e-Tape Plus is a great solution for those who ship or freight their items from home, or from small spaces where loud noises can't be controlled or contained.
Handy 6 Pack Tape
This industrial grade packaging tape will save you money when it comes to purchasing and restocking on individual rolls ever again. Coming in a carton full, this Handy 6 Pack Tape in particular boasts premium rubber solvent that is effective on a lot of surfaces, with excellent tensile strength and tear resistance.
Coloured Packaging Tape
To make identification simple when it comes to shipping your items or storing them in cold rooms, warehouses, industrial environments and so on is by utilising our coloured packaging tape. Our range of coloured tape is durable and made of polypropylene materials, with a design tailored for efficient use and a fit that handles standard dispensers.
Extra Wide Tape
If you're looking for high tensile strength adhesive tape, consider investing in our Extra Wide Tape for your shipping or freight products. This high-track rubber solvent adhesive is effective on most surfaces whether it's cardboard and/or plastic.
Premium Grade Heavy Duty
Our Premium Grade Heavy Duty bulk packaging tape is everything you need to keep your shipping and freight items secure. With excellent tensile strength that makes it tear-resistant, this adhesive is great for a range of finishing such as recycled cardboard and plastic surfaces.
ZeroTape
For a tape that's forward focused on usability and efficiency, our ZeroTape is the perfect solution. Designed with user ergonomics in mind, the ZeroTape dispenser avoids strain on the wrist as well as being built lighter than more conventional tape dispensers. If you work in an environment where you're packing for hours, this specific tape is an investment that you and your team will appreciate.
Your Bulk Packing Tape Supplier
Azapak are a reliable option for shipping tape, providing unparalleled customer service and products of quality. Give us a call on 1300 255 725 for more information or check out the rest of our adhesive tapes. If you have any enquiries, email our team directly at sales@azapak.com.au.