Home

/

BATTERY STRAPPING TOOLS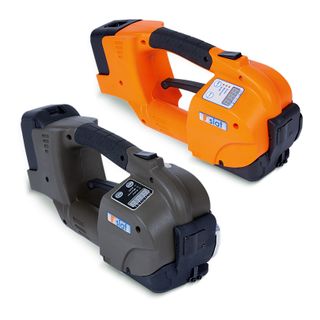 BATTERY STRAPPING TOOLS
Battery Strapping Tools
Azapak offers a wide selection of battery powered strapping tools that are ideal for any application where efficiency in sealing plastics is required. Our battery strapping tools are made in Europe and provide reliability and superior functionality to ensure the job gets done right. With these tools, you can rest assured that plastic straps will be securely fastened with ease and precision.
Whether you're looking for basic strapping or advanced options such as adjustable tension settings or automatic mode activation, Azapak has the perfect solution for your needs.
For more information about this battery powered strapping tool or other packaging materials, contact the team at Azapak by calling 1300 255 725 or emailing sales@azapak.com.au.
Battery strapping tools
When you purchase a battery operated strapping machine from Azapak, rest assured knowing you a fully supported by our in-house service team should anything go wrong. With a full range of stocked parts, and service agents based right here in Brisbane, you can trust our team to keep your warehouse or factory operational.
Titan Battery Strapping Tool - series I
Titan has functionality and ergonomics in mind when it comes to the Battery Powered Strapping Tool The Series 1 Titan Battery Strapping Tool allows for minimal risk of hand fatigue to the operator. With a battery that has a lifespan of up to 2000 charges and the full support of the Azapak team should something go wrong, you can guarantee this investment will go a long way.
Titan Battery Strapping Tool - series II
The Titan Battery Powered Strapping Tool Series 2 is a powerhouse for industrial packaging. With a robust and powerful motor to ensure packing is done quickly and efficiently, this strapping tool takes less than 5 seconds to tension and securely seal your goods. These tools are designed with the user in mind, so we can ensure minimal fatigue on the wrist and a battery charge time of just 30 minutes.
Suppliers you can trust
Azapak is a leading supplier of packaging machines across Australia. We've been operating our family-run business since 2004 and have become the leading supplier of packaging solutions for companies looking for reliable and efficient packaging solutions. Our team is here to provide you with extra support so that all your unique needs are met. Plus, you can enjoy same-day dispatch when ordering from us - perfect if you need your supplies fast! With Azapak's quality products and services, we'll get your business running smoothly in no time.
Battery operated strapping machine
Azapak has been supplying premium battery strapping tools in Australia-wide for two decades. With decades of experience and knowledge, our team will provide you with the support and knowledge for all your packaging needs.
For any enquiries about our strapping tools or if you'd like to order our products, call the team at 1300 255 725 or email us at sales@azapak.com.au.