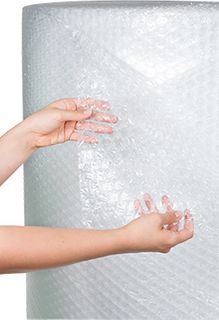 BUBBLE FILM
Bubble Wrap Brisbane
Keep your items safe in transit using the bulk bubble wrap from Azapak. We know how important it is to ensure your products don't find themselves damaged when arriving at their destination, which is why we work to provide leading bubble film solutions for businesses of all kinds. Our bubble wrap is lightweight, shock absorbent and abrasion resistant, giving you and your customers peace of mind at all times.
Azapak is the leading supplier of protective packing materials. Order our small and large bubble wrap supplies today or contact our team on 1300 255 725 or email us at sales@azapak.com.au for more information.
Bulk Bubble Wrap Brisbane
These bulk bubble wrap rolls are made of 100% LDPE, found in many other plastic packaging materials found in foils, trays, plastic bags, and more. Offered in sizes of 100m and 200m lengths, you'll find convenience in these rolls for efficient use.
Providing shock absorption and great for larger packaging solutions, our 20mm Bubble Film ensures safe and secure delivery thanks to the 20mm bubble surface.
Our Bubble Film Handy Rolls are the perfect alternative when looking for small scaled wrap. Lightweight and recycled, the 10mm diameter bubble provides cushioning for fragile items during transit.
Packaging has just been made easier with our 10mm Bubble Film Tubing. Your items are ensured protection from both damage and corrosion on their travels with our wholesale bubble wrap, with the ability to transform the sizing of the wrap to suit your packages.
Our selection of Bubble Film Bags is one of our more convenient products for packaging what's considered regular-sized items. These bags feature a design that boasts a smooth interior, specifically implemented to ensure your products aren't being scuffed or scratched.
Azapak are Your Bubble Wrap Suppliers
At Azapak, we take pride in offering a wide range of bubble film Brisbane and nationwide for our customers. Making your life easier is our priority – get in touch with us on 1300 255 725 today or email our team directly on sales@azapak.com.au for all queries and information. For more of our packaging supplies Brisbane, browse the rest of our site today.