Home

/

POLYESTER (PET) STRAPPING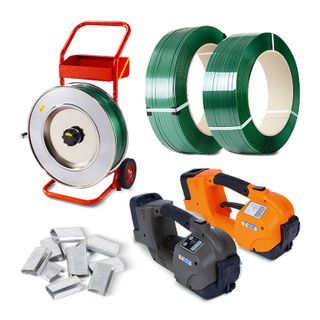 POLYESTER (PET) STRAPPING
PET Strapping
Polyester Strap (also known as PET Strapping) is a safe and environmentally friendly industrial-grade strapping used for shipping and freight. It's the strongest plastic strap on the market and it's used on heavy loads that require high tension during handling and transport. Along with this and other strapping products, Azapak ensures you have the best quality strapping supplies for your business.
Azapak is southeast Queensland's leading supplier of PET strap and additional products that simplify packing and shipping. For bulk strapping supplies and more, contact us on 1300 255 725 or by email at sales@azapak.com.au.
PET Strapping Products
PET Strapping – Smooth
Often used during shopping and freight, this Smooth Strapping is a more cost-effective option, finding popularity among industrial shipping and transport business for that very reason. It offers great flexibility and elastic memory, meaning it's perfect for long-term load retention.
PET Strapping Seals
To complete the entire strapping process, PET strap seals are required, serving as extra protection against any unforeseen circumstances. Made from heavy-duty galvanised steel, these seals are durable and long-lasting.
PET Strapping – Embossed
Thanks to its elastic memory capabilities, the Embossed Strapping allows for long-term load retention. Its great flexibility makes it easy to use and, thanks to being cost-effective, is the desired product for many businesses.
PET Strapping Combination Tool
Many warehouses appreciate this option as a compromise between pricey battery tools and manual tools requiring major effort. There are also no electronic parts to this combination tool, making it the ideal solution in harsh conditions.
PET Strapping Cut Lengths – Smooth
If you're needing something a little more refined and in the way of custom sizing, Azapak is the best place to call. Although our strapping come in a range of sizes and finishes, we also have the capabilities to provide custom lengths for our customers.
PET Strapping – Manual Tensioners
Boasting a sturdy construction, Manual Tensioners are another cost-effective solution offered at Azapak, with the strength to hold up in the toughest working environments. Needing a product to match your warehouse or industrial standards? This is it.
PET Strapping – Manual Crimpers
These heavy-duty Manual Crimpers require minimal effort for sealing, making it an optimal choice for warehouse and industrial atmospheres. They are of durable quality and ideal for high-use applications, providing you with longevity.
Strapping Dispenser Trolley – A700
Azapak's dispenser trolley is ideal for safely dispensing your PP strap. It has a unique brake design that stops rolls from self-unwinding. With a compartment that holds your tools and equipment, this dispenser trolley is perfect for your workplace.
The Leading Supplier of Bulk PET Strapping
We have been able to make a name for ourself among the industry of shipping and freight solutions, providing our customers with products that make the job easier and more efficient both in-house and for their customers. Regardless of the size of your business, or whether you use us once or continuously, we tailor our solutions to suit your operations.
Contact the Azapak Team Today!
We're your trusted provider of all things packing, from strapping tools to bulk packing tape and more. With same-day dispatch available for your Brisbane packaging supplies, there's no reason not to contact us. Call Azapak at 1300 255 725 or email us at sales@azapak.com.au today for more information or general queries. We're here to help!