Home

/

CARTON SEALING MACHINES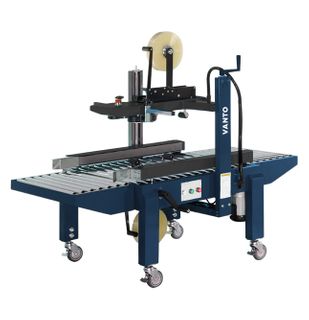 CARTON SEALING MACHINES
Carton Sealing Machines
Azapak's carton sealing machines offer a secure and consistent performance when it comes to taping up boxes and packages alike. Designed for efficiency and increased productivity, they'll become a reliable piece of technology in your warehouse or business.
Whether you need a single box sealing machine or a few in varying sizes, we provide the right model that fits your requirements. Simply get in touch with our team, discuss the operations you undertake on a day to day basis, and we'll pair you with the perfect sealing device.
Looking for a leader in packaging supplies Brisbane businesses rely on? Choose Azapak. Order our box tape machine and other packaging supplies today and enjoy same day dispatch right across the country.
Our Carton Sealing Machines
A sealing machine is a device used to securely close boxes and containers in order to protect their contents. This works by applying adhesive tape or other sealing materials across the opening of a box, creating a tight seal that prevents dust and moisture from entering. Our range of machines are suitable for low to high volumes of work, giving business a number of choices for their operations.
Reliable Machines for Your Business
Our selection of carton sealer models are leading products across a number of industries, not just in shipping and freight. These specific sealers offer adjustable settings, in which they provide users with the ability to customise exactly how much tape is applied to a number of different applications.
For a Carton Taping Machine, Shop Azapak
Right across the country, Azapak is here to supply businesses with packaging materials and equipment to ensure projects are completed effectively and on time, every time. Our carton sealer packaging machines assist in the safe arrival of your products. Call our team at 1300 255 725 or email sales@azapak.com.au for more information.