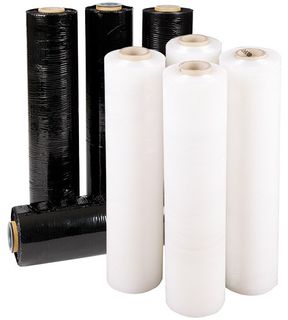 HAND PALLET WRAP
Bulk Pallet Wrap
Azapak provides the most reliable and dependable bulk pallet wrap services nationwide. Our high-quality products are designed to keep your items safe and secure during transfer, with same-day dispatch available for ultimate convenience. We understand that your items matter greatly, which is why we make it our priority to offer you the ultimate selection in shipping materials.
We take pride in our long standing reputation throughout the packing solutions industry, with our extensive selection of pallet packaging materials providing something for every type of business. Thanks to our dedication to exceptional customer service, we have return clients that trust our operations, and continue to build our platform of customers every single day. When it comes to bulk packaging solutions, choosing Azapak is a no-brainer.
We are the leading supplier of wholesale stretch wrap across Australia, making your life in business so much easier to order from Azapak or if you're after more information, contact us on 1300 255 725 or email directly at sales@azapak.com.au.
Bulk Pallet Wrap
Securewrap
Undeniable security and a high-quality finish are what you get when you choose to use our Securewrap. With a different level of thickness available to suit your specific packing requirements, this carefully curated stretch wrap has been designed and specially formulated with one-sided cling to ensure a strong hold against the pallet and its contents without sticking to anything at close proximity. The innovative design also nods to ease of product identification and makes barcode scanning much simpler.
Innovare
If you're looking for a more sustainable alternative to wrapping your packages and shipments, our Innovare stretch wrap will be your best friend. Keep your items secured with ease thanks to our thin yet strong film solution, ensuring you're reducing your plastic film wastage at the same time as providing nothing short of quality packaged items.
Grip Film
Delivering unbeatable packaging protection, our Grip Film is offered to you in bulk pallet wrap form – allowing you to elevate your shipping game. Considered a secret weapon among the packing and shipping solutions industry, our dedicated film ensures you're not straining your body when it comes to wrapping, allowing you to get the job done efficiently and safely.
Saver Stretch
This low-cost stretch film wrap is exactly what you need as an affordable alternative for packing, shipping, and keeping your items secure. When it comes to beneficial features of our Saver Stretch, it doesn't stop there. It is both puncture resistant and provides a quality level of stretch given its price point. With a cardboard core that runs longer than the wrap itself, you'll experience a film with grip that provides nothing short of peace of mind.
Ventilated Wrap
When it comes to temperature-sensitive items that need to be shipped sent through freight, we've got your back there as well. Our Ventilated Wrap has been specifically designed with a construction that allows airflow through your pallets, creating the ideal environment for your shipment. Coming pre-stretched, this film makes application easier than more conventional wrapping solutions of the same form.
RoarWrap
The RoarWrap is an Azapak exclusive made to specific standards and requirements that ensure durability and exceptional stretch at any angle. This product has undergone rigorous testing and development to which it now allows customers to apply it on pallets containing sharp objects without the worry of puncturing. Our RoarWrap is favoured by the likes of e-commerce companies and similar businesses that need ship or sent smaller cartons.
Coloured Stretch Wrap
Our awesome range of coloured wrap allows your items to stand out amongst the saturated market that is shipping, packing, and freight. Identification is imperative when it comes to sending things across both long and short distances, which is why we created our dedicated coloured wrapping. This is especially popular among food production industries, and other food and beverage related sectors.
Trusted packaging supplier
As a leading supplier of packaging and shipping solutions, Azapak has created and withheld a reputation among the industry thanks to our dedication to durable and lasting packaging options, customer service, and our passion for genuinely reliable equipment. We have been supplying businesses big and small not only across southeast Queensland, but right across the country since 2004, giving us the ability and the privilege to build strong relationships with returning and new customers. If you're looking for a company that takes pride in offering care and convenience for your business, consider engaging Azapak. We're here to help.
Queensland's go-to for shipping products
For more information our range of stretch wrap, contact the team on 1300 255 725 today.
As trusted providers across the nation, we show no signs of slowing down and continue to grow our brand. For more of our bulk pallet wraps alternative packaging supplies Brisbane, email us at sales@azapak.com.au or check out the rest of our website.