Home

/

FURNITURE FELT & BLANKETS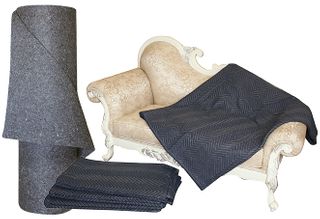 FURNITURE FELT & BLANKETS
Movers Blankets
Are you looking for a reliable solution to protect those heavier and more valuable items during transportation or storage?
At Azapak we have taken it upon ourselves to provide high quality and industry leading movers blankets for complete convenience of the storage and transportation industries. These movers and furniture blankets are made of durable materials, such as cotton or felt, with quilted finishes that are designed to provide a cushioning effect that helps to prevent scratches, dents, and other types of damage to items that are being transported or sitting in storage.
Why You Should Choose Azapak
What sets us apart is our commitment to quality and sustainability. Our movers blankets are expertly crafted with durable stitching, a strong quilted design, and tear-resistant materials, making them not only effective but also reusable for multiple moves and multiple items. With our range of furniture blankets and similar products, you can have peace of mind knowing your items are in safe hands every time.
Order Your Movers Blankets Today!
Browse more of our packaging protection materials now and add to your purchase for the ultimate protection on your next transportation or storage job. For more information or if you have any general queries relating to our popular packaging supplies Brisbane businesses rely on, give us a call on 1300 255 725 or reach out directly via email at sales@azapak.com.au.